On Saturday I took my first quilting class by Karen Kay Buckley where we learned how to machine applique.
Karen was gracious enough to snap a photo with me after a long day of learning and sewing:
---
In addition to learning and playing with a machine applique piece, I also went shopping at her display.
I bought an adjustable square which I am sure will save me a lot of time and money on individual rulers. This gives me as small as 4″ and as large as 24.5″ to square up my quilt! Here is a video link of Karen demonstrating the ruler.
[youtube https://www.youtube.com/watch?v=T57ULmGXyF0]
---
Since we were at an applique class and needed some sharp scissors that cut really accurately I was intrigued by Karen's Perfect scissors. I got the blue pair which is the medium or 6″ blade. I started using them right away in class and I do not regret the decision. here is Karen explaining her scissor design.
[youtube https://www.youtube.com/watch?v=u5Cyd6_rrxY]
---
I enjoyed the process so much that I purchased some circle templates. I had bought a bag of buttons at my guild meeting last week so I thought maybe I could make some circle pieces with buttons in the center.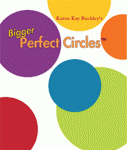 ---
I loved the class so much that I purchased a pattern by Karen entitled "Majestic Mosaics". Our quilt guild is having their quilt show in October 2015 and I'm considering doing a quilt top using this pattern. I might do a table runner with one of each square or a wall hanging as I only just learned the technique this weekend!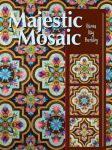 ---
When I got back from my long day of learning, I found this note that my 9 year old daughter left for me: